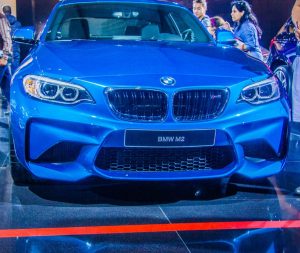 After being ranked among the top 10 cars of 2016 in the guise of the M235i, the BMW M2 series is back once more with the M2 to claim a top spot in the 2017 edition. The BMW M2 is definitely one of the best cars you can buy today, according to nominations by "Car and Driver," "Motor Authority," and "AutoGuide.com." This is very impressive when you consider the other cars the BMW M2 is competing with.
Alongside this new M2, you will find cars like the Porsche Cayman, the Chevrolet Corvette Grand Sport and the incredible Ford Mustang Shelby GT350R and GT350 – cars that offer incredible performance both on and off the track.
The BMW M2 is based on the same platform as last year's M235i, but offers an improved suspension for better track performance in addition to an optional 7-speed DCT super fast transmission among others. The set up feels so intuitive no matter how you are driving and the relationship between all the car's components is near perfect. In evaluations to determine the top 10 cars of the year, drivers adored this playful coupe for its easy drift-ability, engaging driving dynamics and smooth abundant power.
And the jewel that draws everyone' attention to the M2 is engine; a 3 liter turbo in-line six that outputs 365 HP and 343 pound-feet of torque. It is smooth, abundantly powerful and seemingly provides limitless acceleration. It rockets the M2 from 0 to 60 mph in just 4.2 seconds with the M DCT transmission, or 4.4 seconds with the 6-speed manual. This means the car is faster than anyone would realistically need it to be, and the sounds it produces are enough to make even the grumpiest drivers crack a smile.
Perhaps the only downside is that this coupe is a little too heavy and the steering could do with some extra feedback. But despite this, the M2 still prefers corners to straights much the same way a Rottweiler prefers pork chops to applesauce, and that's and essential part of the car's hyperactive charm. This is thanks to the Active M Differential that helps to precisely control torque allocation at corners, right up near the limits of adhesion, and in a nuanced way that an open differential and purely brake-based stability systems never could.
The BMW M2 is everyone's type of halo car. It works hard to keep things simple—and wears its performance heart on its sleeve.