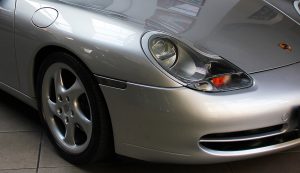 The 2017 Porsche 911 is quickly earning a reputation as being the world's number one supercar, with impressive performance and style combined with comfort and practicality for everyday use.
The new Porsche 911 comes in two versions: Carrera and Turbo, each with several models available. The current price ranges from $89,400 for the basic 911 Carrera to $200,400 for the 911 Turbo S Cabriolet.
Style
Considered by many to be the quintessential sports car, the Porsche 911 has been around since the 1960s. The design has been updated for 2017 with changes such as redesigned lamps and vertical rear louvers, but the original classic lines are unmistakable.
Various colors are available for both the vehicle body and the wheels and there is also a selection of interior color and material options to choose from. A full personalization service is also available.
Performance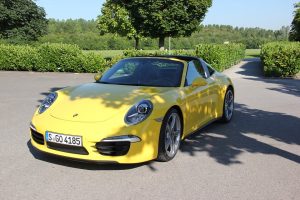 There's no doubt that this is one of the most powerful cars on the market today. The most basic Carrera model boasts 370hp and accelerates from 0-60mph in 4.4 seconds. The souped-up Turbo models range from 540 – 580hp and can reach 60mph in as little as 2.8 seconds.
Super enthusiasts and speed demons may opt for one of the Turbo models but in fact, every one of the Carrera models is twin-turbocharged, resulting in more power and better fuel efficiency.
Interior
A new touchscreen multimedia system, named Porsche Communication Management, is one of the new features of the updated 2017 model. Features include Porsche Car Connect, online navigation, Apple CarPlay, Wi-Fi, Bluetooth hands-free mobile connection, and a 150W sound system with 8 speakers.
The interior feels spacious for a sports car, it has the capacity for four passengers, though the rear seats can be folded down and are better suited for carrying luggage than people.
The two front seats are roomy, comfortable, and supportive and have a heating and cooling feature. You can choose between manual adjustment and power adjustments, depending on your preferences.
Efficiency
With a reduced engine size, less fuel is used than previous versions of the 911. The lightweight construction also results in an impressive fuel economy.
An automatic engine stop activates when decelerating under 7km/h, further helping to improve efficiency. The engine restarts automatically on releasing the clutch or accelerating.
A coasting function allows considerable fuel saving by making optimal use of the vehicle's momentum.
Estimated fuel consumption comes in between 19 and 20mpg for all models when using manual transmission, or 22mpg in PDK mode.
Safety
The Porsche Ceramic Composite Brakes (PCCB) are remarkably powerful and consistent, enabling short breaking distances even on less than ideal road conditions.
Full-sized driver and front passenger airbags are included on every model and additional airbags in the door panels and seat bolsters form the Porsche Side Impact Protection System, providing maximum protection in the event of a collision.
Integrated roll-over protection technology with spring-loaded bars is automatically activated as soon as a roll-over is detected.
Conclusion
It's hard to improve on the 2017 Porsche 911 and many are now touting it as the closest thing possible to a perfect car. If you're lucky enough to get the chance to take one for a test drive, you may be inclined to agree.
If your budget doesn't quite stretch to buying a new Porsche but you want to experience the comfort and convenience of a chauffeur-driven luxury car while you're traveling, consider booking a Milwaukee Limo the next time you're in the area.